Product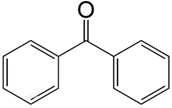 Product Identification:
CAS No.: 119-61-9
Molecular Formula:C13H10O
Structural Formula:
Specification:
Packing:
1. Packing Material: Paper bag or drum
2. Net Weight:25kg/bag,25kg/drum
Application:
1. Photo initiator, and in UV-curing applications such as inks, imaging products,clear coatings and printed circuit boards.
2.Pharmaceutical intermediate, in the preparation of antihistamines and hypnotics.
3.Chemical intermediate, in the manufacture of pesticides.
4.In perfume, for the flavor and fragrance markets.