Product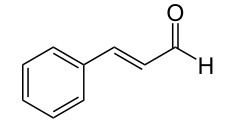 Product Identification:
CAS No.: 104-55-2
Molecular Formula:C9H8O
Structural Formula:
Specification:
COLOURLESS OR YELLOWISH oily liquid
STRONG SPICY SMELL OF CASSIA OIL
PURITY (GAS CHROMATOGRAPHY)(%)
Packing:
1.Packing Material:Plastic Drum
2.Net Weight:200kg/drum
Application:
Cinnamaldehyde has strong spicy smell of cassia oil, mainly used in perfumery, medicine, daily chemicals, feed, paper, and food processing industry. It's also a kind of important organic synthesis intermediates.