Product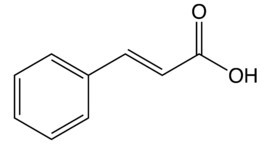 Product Identification:
CAS No.: 140-10-3
Molecular Formula:C9H8O2
Structural Formula:
Specification:
colorless or yellowish powder
Residue after IGNITION (%)
Arsenic(COUNT ASAs) (mg/kg)
HEAVY METALS(As Pb)(mg/kg)
1g sample soluble in 7ml/95% ethanol
Packing:
1. Packing Material: Kraft paper bagliningpolyethylene bag
2. Net Weight: 25kg/bag
Application:
Cinnamic acid is largely used in flavors and fragrances, food additives, pesticide industry, pharmaceutical synthesis, and organic chemical synthesis, etc.