Product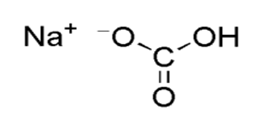 Product Identification:
CAS No.: 144-55-8
Molecular Formula:NaHCO3
Structural Formula:
Specification:
TOTAL BASE (AS NaHCO3)(%)
Packing:
1. Packing Material: PP woven bag lining PE film bag
2. Net Weight:25 kg/bag, 50 kg/bag, 1000kg/bag
Application:
1. Leavening agent used in food industry, propellant in soda and cold drinks, and preservative used in butter
2. Most widely applied bulking agent in food industry.
3. A kind of raw material in pharmaceutical industry, such as in the production of antacids.