Product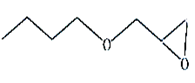 Product Identification:
CAS No.:2426-08-06
Molecular Formula:C4H9OCH2 (CHCH2) O
Structural Formula:
Specification:
CLEAR, COLOURLESS, OILY LIQUID
Inorganic Chlorine (Eq/100g)
Packing:
1. Packing Material:Plastic /IronDrum
2. Net Weight:180kg/drum
Application:
It can be widely used to electronics, electrical equipment, electromechanical and machinery industry. Low viscosity can greatly lower the viscosity of epoxy resin and improve its usability. It's suitable for embedment, casting,lamination, impregnation and other applications. It can be used as insulating material and bonding material, also in the application of solventless coatings and adhesives.