Product
Neopentane Glycol Diglycidyl Ether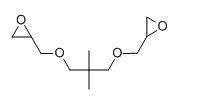 Product Identification:
CAS No.: 17557-23-2
Molecular Formula: C11H20O4
Structural Formula:
Specification:
Epoxy Equivalent Weight(g/eq)
Hydrolyzable Chloride(Eq/100g)
Inorganic Chlorine(Eq/100g)
Packing:
1. Packing Material: Plastic /Iron Drum
2. Net Weight:200kg/drum
Application:
It is mainly used as reactive diluent for epoxy resin which can reduce the reactivity of epoxy and curing agent in the same temperature conditions. It can be widely used in composite materials, anti-corrosion coatings, solvent-free coatings, laminating, adhesives, transparent epoxy system LED and electrical pouring shape epoxy system.