Product
P-tert-Butylphenylglycidyl ether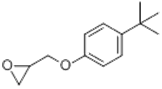 Product Identification:
CAS No.: 3101-60-8
Molecular Formula: p-C4H9C6H4OCH2(CHCH2)O
Structural Formula:
Specification:
Epoxide equivalent, (g/eq)
Hydrolyzable chloride, eq/100g
Inorganic chlorine, eq/100g
Packing:
1. Packing Material: Iron Drum
2. Net Weight:20Kg/Drum or 200 Kg/Drum, or 1000Kgs/ IBC Container.
3. Storage and transportation must conform to basic requirements of normal chemicals.
4. Store in a cool, dry and well ventilated area. Keep away from ignition sources, heat and flame and sunlight.
5. It is necessary to maintain insulated (tightly seal) after use, in order to avoid negative influence arousing from moisture absorption
Application:
Dilution effect is good for epoxy resin, is widely used in coatings, laminates, electronic packaging, adhesives and so on.